QuikCourse Innovative Brick Spacing Tape
Accurate Color-Coded Masonry Concepts
An experienced mason invented these revolutionary time-saving color-coded tapes. Bricktape can be used directly on your work surface or to create your own story poles, straight edges, levels, corner posts and arches. You name it – it's up to your imagination.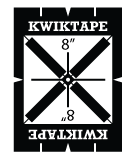 Now Also Offering Builder's KwikTape
Build it Quick
We now also have tape for builders.